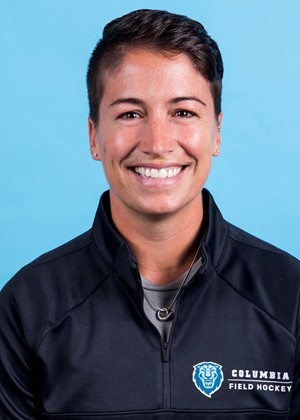 Head Coach
Caroline Nelson-Nichols
Former U.S. National Team member and two-time Olympian Caroline Nelson-Nichols completed her third season as Columbia's head coach and sixth with the University in 2017.
Nelson-Nichols was named head coach of the Columbia field hockey program in May of 2015 after spending three years on the sidelines as an assistant coach. She became the fourth coach in program history.
In her three seasons at the helm, the Lions have had 10 student-athletes garner All-Ivy League status and four NFHCA All-Region selections. Nelson-Nichols has coached three of the finest scorers in Columbia history in Maeve Doherty '18CC, Christina Freibott '16CC and Katie Ruesterholz '17CC, who set the school's career point records in back-to-back seasons. Additionally, Doherty earned consideration in the U.S. Field Hockey pipeline, spending time on the National Indoor squad from 2015-16.
During her time as an assistant, Nichols worked with the Columbia backfield. The Lions' defense has seen players such as Bridget DeSandis, Katie DeSandis and Lauren Skudalski earn All-Ivy League and All-Region honors. As a team, the Lions have ranked in the top 15 in defensive saves in each of Nichols' three seasons with the program.
"I am thrilled for this opportunity to lead the Columbia Field Hockey program," Nichols said at the time of her hiring. "I want to thank Director of Athletics Peter Pilling, Jackie Blackett, and the search committee for their support throughout this process. I am excited to continue to drive the standard of Columbia field hockey forward. With our returning players, incoming class, and alumnae support there is no limit to what we can achieve."
Nichols wrapped up a brilliant seven-year international field hockey career in the summer of 2014. A pivotal piece of Team USA's backfield, Nichols compiled a total of 165 impressive caps to her name. A solid force on penalty corners and penalty strokes, her skill set was greatly utilized most recently at the 2014 Champions Challenge and Hockey World Cup where the United States made an impressive fourth-place finish.
Nichols was a member of the 2008 Beijing Olympics team, the 2008 Olympic Qualifier team and the 2010 World Cup Qualifier Team. She earned a gold medal at the 2011 Pan American Games when the U.S. defeated top-ranked Argentina in the Championship game. In 2006, she was named to the USA World Cup Training Squad and was a member of the Netherlands Tour team in 2007.
She competed with the 2012 London Olympics team in June 2012 and was re-selected for the National Squad in June of 2013.
Nichols, who an assistant coach at Iowa in 2010, has worked with the USA Field Hockey Futures program since 2008. She has been a certified site director and head coach since 2008 and the Regional Coaching Director for San Diego, Calif., since 2009.
Nichols had an outstanding collegiate playing career at Old Dominion as a four-year letterwinner from 2003-06. She was a national all-academic team selection and an all-conference honoree from 2004-06. As a junior, she was named an NFHCA second team All-South Region selection and was named to the Colonial Athletic Association (CAA) all-tournament team. In 2006, Nichols was recognized as an NFHCA first team All-American and an NFHCA first team All-South Region honoree. Additionally, she was named the 2006 CAA Player of the Year and CAA Defender of the Year, marking the first time in CAA history someone swept both honors in the same season.
Nichols earned her bachelor of science in biology with honors from Old Dominion University.